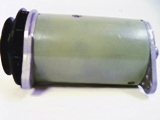 We have been asked by many Austin Healey customers if we could supply the color Austin Healey green finish on the generator and starters we re manufactured to match the factory color. We recently found a supplier who carries the Austin Healey green color paint called: Austin Healey Engine Enamel. Please request the Austin Healey green color at the time of order or when the components are send in to be re manufactured. The Austin Healey green color will be offered free of extra charge to those customers who request it . If the Austin Healey green color is not requested then the finished products will be painted our standard black color.
We will now also offer a second type of finish: powder coating finish. Yes, powder coating finish is being offered for an additional charge. If your Austin Healey generator or starter needs to be refurbished take advantage of our special introductory price of $59.99 for a powder coat finish plus the cost to refurbish the unit.
We are committed to customer satisfaction one-hundred per cent and welcome any comments concerning our products.